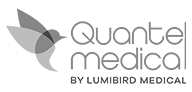 COMPACT IN DESIGN,
DEFINITIVE IN DIAGNOSIS
The Compact Touch® features the A/B modes, as well as the pachymetry. It benefits from a new generation of 15MHz probe with a resolution increased of 30%.
Small in size, it will fit in any working environments, even the smallest examinations rooms.
Key Features
The 15MHz B probe that redefines the gold standard in B-mode imaging by bringing an outstanding image quality, for a better and quicker diagnosis.
Ultra-compact ultrasound system that further increases the working environment of the physicians, for a better user experience.
Connected, it will easily interface its data to your DICOM, EMR, or WIFI networks.