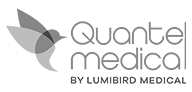 Nd:YAG with optional 532 nm Photocoagulation
Fully integrated Nd:YAG laser indicated for YAG posterior capsulotomy and laser peripheral iridotomy, with intuitive user interface and variable illumination height, for the clearest view into anterior and posterior segments.
Capsulo® is a versatile Nd:YAG laser platform combining photodisruption and iridotomy treatments with expansion capability for 532 nm Retinal Photocoagulation. Capsulo® can easily be transformed into an anterior and posterior laser platform when combined with Vitra 2®, in Single or MultiSpot Pattern Scanning configuration.
Key Features
Slit Lamp with high quality optics, designed and manufactured by Lumibird Medical
Dual height illumination-tower for clear view into anterior and posterior segments
Advanced two-point green aiming beam for rapid and precise tissue targeting
Continuously variable energy level with 3 Hz repetition rate & 4 ns pulse duration