Although YAG Posterior Capsulotomy is a well understood indication, shortcomings associated with legacy laser equipment used to perform the procedure may result in ongoing vision problems for some patients.

Re-establishing your patient's baseline,
Best quality of vision

Applying the same principal of a Premium Refractive Outcome delivered with cataract removal and IOL implantation.


PREMIUM REFRACTIVE OUTCOME CAPSULOTOMY
Fewer iatrogenic floaters
IOL intact
Precise capsulotomy diameters

Image courtesy of Karl Brasse, MD
Extended Posterior offset
Maintain full visual focus with up to 2mm extended posterior offset.
Focus depths greater than those conventionally in use for capsulotomy produce a powerful anterior moving hydraulic jet effect, translating into nether tissue separation and superior IOL protection against ionized plasma strikes (1,2,3).
Green aiming beam and patient fixation
Improved accuracy in targeting enhances the safety profile of YAG laser treatments. A green aiming beam provides the highest degree of visual contrast for YAG laser procedures, resulting in easier target visualization and more proficient treatment delivery.
Precision in incision
Ellex's proprietary YAG laser cavity with Tango Reflex™ Neo, delivers a four nanosecond Ultra-Gaussian pulse at high peak power, typically achieving the industry's lowest optical breakdown of 1.4 mJ in air (4). The hyperefficient laser profile designed by Ellex generates far superior and precise photodisruption of sensitive ocular tissues resulting in better patient outcomes.
Refer below to the recommended PROcap treatment guidelines prepared by Dr Karl Brasse (The Netherlands):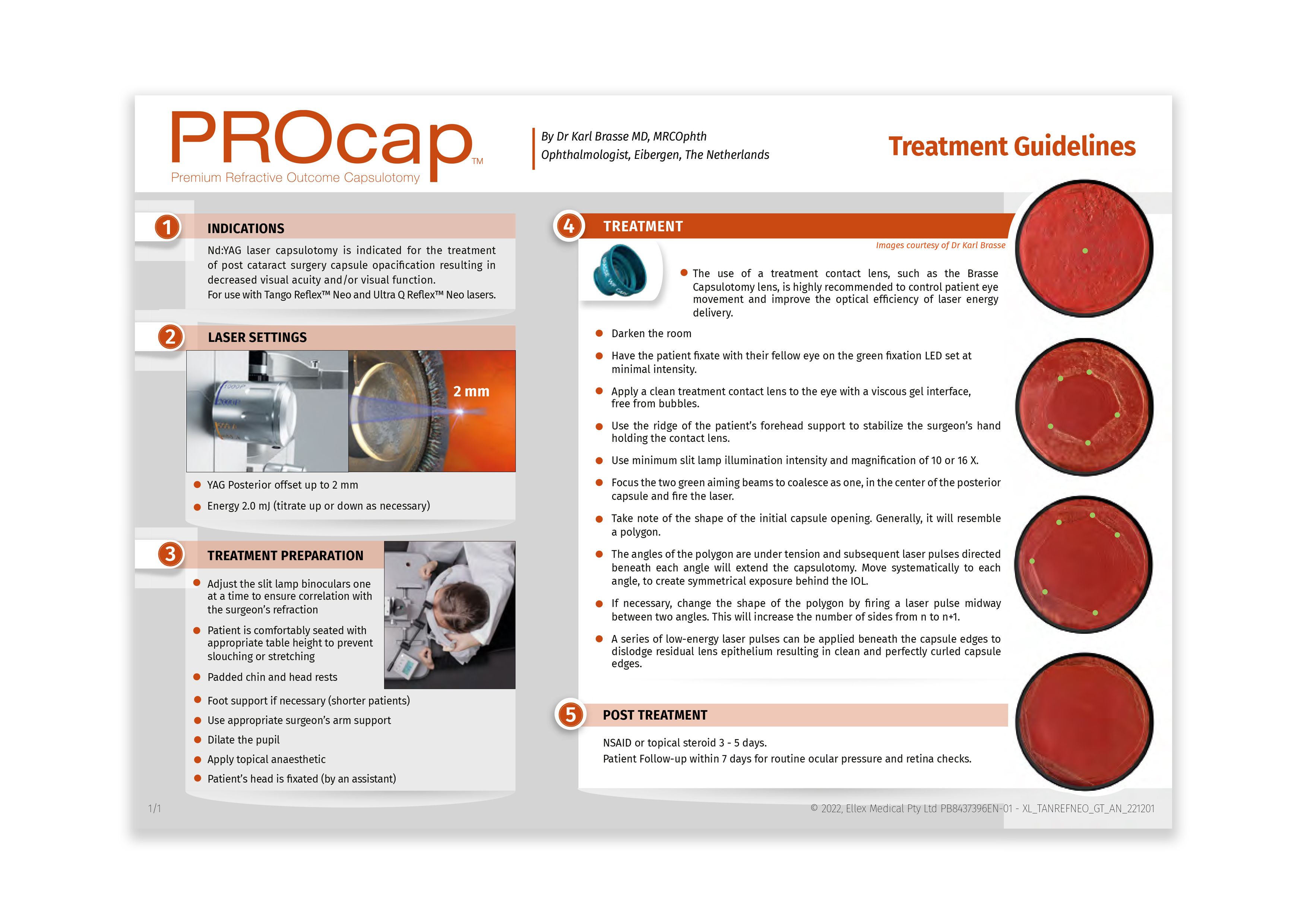 REFERENCES:
1. G. Hawlina, B. Drnovšek-Olup, J. Možina & P. Gregorčič, Photodisruption of a thin membrane near a solid boundary: an in vitro study of laser capsulotomy, Applied Physics A, 2016
2. Uroš Orthaber, Development And Evaluation Of A Laser For Posterior Capsulotomy - Doctoral Thesis, University Of Ljubljana Faculty Of Mathematics And Physics Department Of Physics
3. Brasse K, Der laser Kann Viel Mehr Als Nur Nachstar Und Iridotomie, Eyeland Design Network, 2022
4. Based on system performance testing (data on file)